REPART Takes Hongkong: An Expo Experience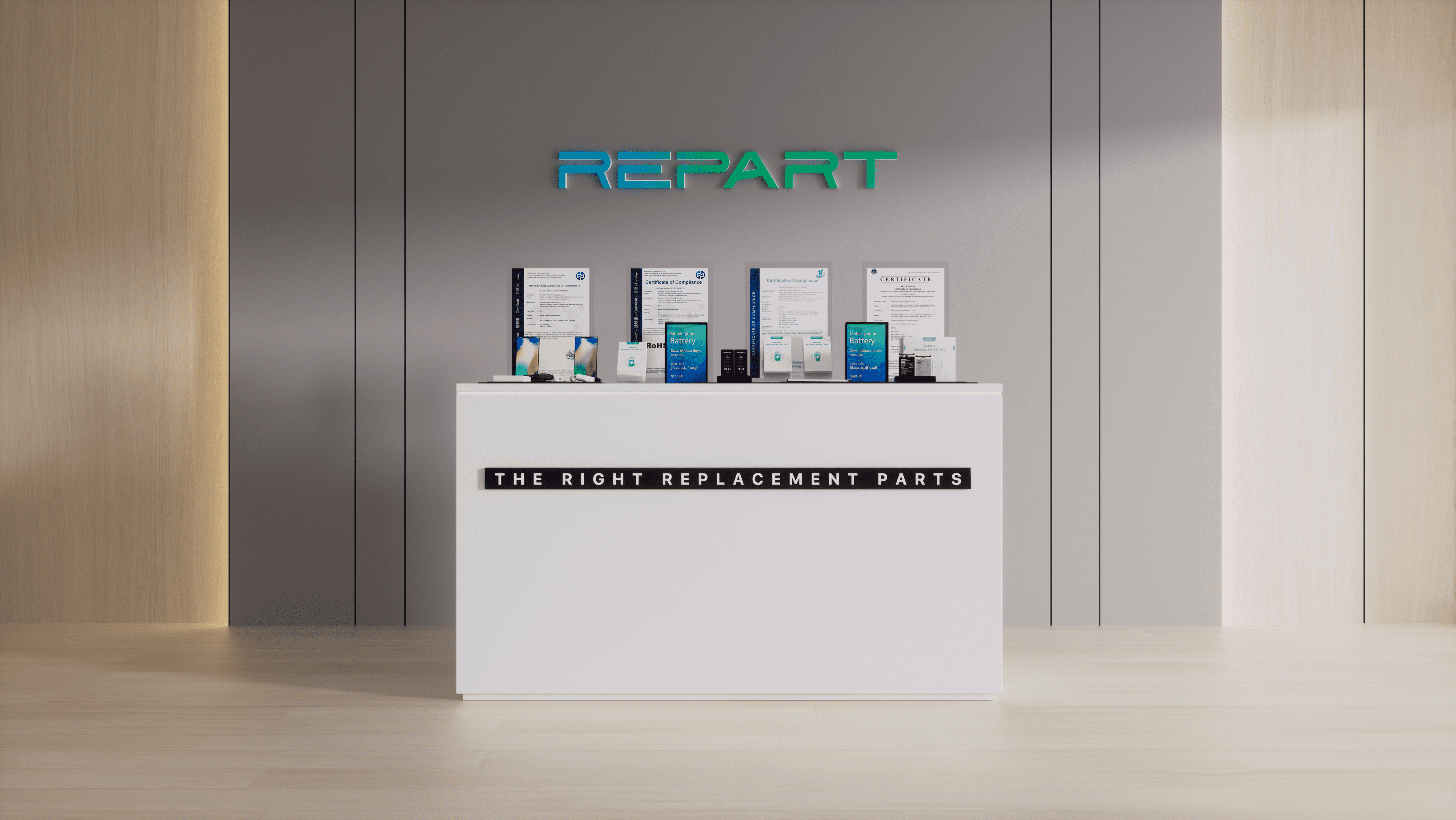 At REPART, our mission is to provide quality aftermarket cell phone parts to repair business owners and consumers who need replacements at affordable rates. REPART offers a wide range of products, including iPhone screens, batteries, and other iPhone parts, as well as Android parts.

Attending an expo is an exciting opportunity for any business, and from April 18th to 21st, REPART had the chance to showcase our products to a wide audience at a Hongkong Global Source Expo. The experience was an eye-opener, and we are excited to share our story. Here's a look at our experience.
The Rise of REPART
After more than a year of preparations, it was a proud and thrilling moment for us. We were able to launch REPART back in December of 2022. Our launch goal was to create a revolutionary brand that combined quality, innovation, and affordability.
With our R&D team constantly working on developing our products, we took the time to research and perfect every detail of our brand before launching. We take pride in our high-quality materials and superior functionality, and it was gratifying to see that reflected in the Expo's visitors' responses. 
Global Sources: AsiaWorld Expo
Global Sources is a Hong Kong-based and internationally recognized multichannel B2B sourcing platform that connects buyers and verified suppliers worldwide. A significant milestone has been reached for Global Sources Exhibitions this year as it celebrates its 20th anniversary.
The April 2023 Global Sources Mobile Electronics, Smart Home, and Appliances Exhibition, a highly-anticipated four-day event, has once again proven its success as it attracted almost 43,034 buyers from almost 180 countries and regions. Out of this number, 43% of the attendees have participated in the exhibition twice or more, proving the exhibition's relevance to their businesses. Notably, the number of VIP buyers has increased by an impressive 40% compared to the Spring 2019 exhibition, significantly contributing to the exhibition's success.
Partnership With REWA
REWA is a renowned supplier of cell phone repair parts and tools, catering to customers worldwide. And our partnership with REWA Tech has opened up new opportunities for both of us.
We had the privilege of participating in the HK Expo, which allowed us to showcase our products and services to a wide audience. We were fortunate to have our exclusive dealers, REWA Tech, contribute to our success at the expo by helping to establish our presence and expand our reach.
Our collaboration with REWA Tech has been a fruitful one, and we are looking forward to continuing this partnership. We believe that working together will help us achieve our common goals and provide better services to our customers.
You can also find our new and future products in the REWA Shop. You can order REPART products through REWA Shop by clicking here.
Achievement From the Expo
The Hong Kong Expo proved to be a valuable platform for REPART, where we showcased our cutting-edge battery and screen replacements to a diverse range of clients. As we engaged with numerous attendees, we gained valuable insights into their preferences and requirements for high-quality repair and replacement products.
Brightness emerged as the primary concern for most clients, followed closely by the desired color range. Interestingly, the color temperature seemed to have minimal significance in their decision-making process. 
It was particularly gratifying to witness the high level of satisfaction among clients with our REPART flexible display. Featuring an original 1:1 display and slightly enhanced brightness in regular usage scenarios, it exceeded expectations. However, some clients expressed reservations about the challenges involved in important display message" removal. They believed that this procedure could be time-consuming and lead to lower product yields.
The universal battery cell garnered significant interest among clients. Their enthusiasm was apparent as they requested sets of samples, recognizing the universal cell's potential to address their inventory woes. In fact, feedback from clients highlighted the abundance of Android battery brands with extensive inventories, making the universal cell an attractive solution due to its fast delivery. The primary concern expressed by clients centered around the difficulty and practicality of replacing the universal cell.
Excitingly, the Expo generated significant traction, with over 1,000 retail stores expressing keen interest in our products. This overwhelming response serves as a testament to the market demand and the confidence placed in REPART's innovative solutions.
Our Mission
In most cases, cell phone manufacturers make their devices difficult to repair, which has a significant impact on the aftermarket repair industry. As a result, REPART was formed to address the problems in the repair industry that will make it easier for individuals and repair shops to repair or replace any part without having to rely on manufacturers.
Conclusion
At REPART, we are proud of the progress we have made since our inception. Participating in the Hong Kong expo was a significant milestone in our journey. We are grateful for the opportunity and excited to continue providing quality aftermarket cell phone parts and making a difference in the industry. We invite you to join us on this journey of innovation and customer satisfaction. 
Stay up to date on our website, blog, and news section to learn about our latest products. Additionally,
REPART is looking for dealers
around the globe. If you're interested in becoming a dealer, please contact us for more information. We look forward to hearing from you and helping you get started with REPART products. Don't forget to follow us on social media to stay informed about the latest news and offers.