Unique Advantages of REPART Incell LCD Screen Assembly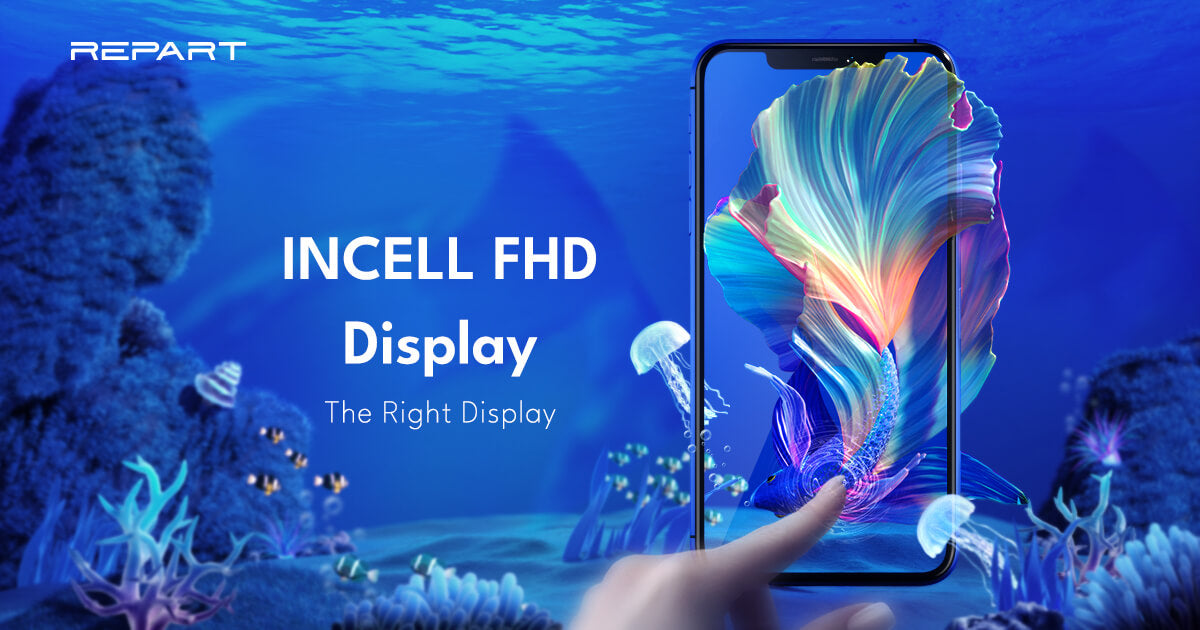 When it comes to replacing a damaged iPhone screen, it's important to buy high-quality parts from a reliable and trusted supplier. This is where the REPART iPhone Screen comes into play, offering high-quality and exceptional performance like no other. With superior technology and innovative functions, this screen assembly is undoubtedly better than other replacement options available in the market.
The innovative functions of the REPART Screen ensure that users can enjoy features that were previously only available on original iPhone screens. All of these unique advantages make the REPART Screen the ideal option for anyone who wants to replace their iPhone screen with a high-quality, reliable, and trusted product.
What is Incell LCD technology? 
According to Techopedia, Incell LCD technology was developed in 2012, which integrates the LCD display and the digitizer into one unit, resulting in a more streamlined and slimmer phone design. The digitizer is securely housed within the phone, which means that even if the glass is shattered due to a drop, the digitizer can still function properly.
Why are we still using LCD screens?
While Organic Light-Emitting Diode (OLED) screens are becoming more common in today's smartphones, LCDs are still widely used in many devices. One reason for this is that LCDs are less expensive to produce than OLED displays, which makes them a more cost-effective option for manufacturers. Additionally, many consumers still use older LCD incell devices. They may prefer to replace a broken display with a similar LCD rather than upgrade to the latest device with an OLED screen. Some consumers may prefer LCD screens for color accuracy and brightness. 
Advantages of the REPART LCD Assembly
REPART is a relatively new player in the cell phone repair industry. Its mission is to provide innovative and premium quality replacement parts to repair shops, agents, and wholesalers, with the aim of improving the repair business as a whole. One of REPART's flagship products is its LCD Assembly, which boasts several advantages over traditional displays. Let's take a look at some of these advantages.
IPS HD Retina Display
REPART Incell LCD replacement features an IPS HD retina display that offers a wide color gamut of up to 600 cm/m2. This means that your iPhone will display colors accurately and vibrantly, making for an enjoyable viewing experience.
TDDI Integrated Chip Technology
TDDI integrated chip technology combines the touch screen controller and display driver into a single chip, providing a smooth and accurate touch experience. In-cell touch sensing technology lowers the cost substantially by embedding the sensor as part of the LCD manufacturing process. TDDI technology enhances touch displays' capabilities, providing a seamless and cost-effective touch experience. You can easily navigate your phone and use all its features with precision.
Anti-fingerprint Tempered Glass
Nobody likes a smudged or fingerprinted phone screen. That's why the LCD in-cell display includes fingerprint-resistant tempered glass, making it easy to keep the phone looking stylish and clean.
Perfect Fit for Your iPhone
The 1:1 original fit-in design of the REPART screen display ensures it fits perfectly on your mobile phone without gaps or imperfections. Additionally, the installation procedure is simple and flawless, so you won't need to worry about complicated repairs.
Quality Assurance and Warranty
REPART is committed to providing high-quality replacement parts that meet or exceed OEM specifications. REPART Screen undergoes rigorous testing and quality control procedures to ensure consistent performance and reliability. We also offer a 12-month warranty and a hassle-free return/exchange policy to give our customers peace of mind.
Conclusion
The REPART Incell LCD screen for iPhone offers several distinct advantages over other options on the market. With their superior technology and exceptional performance, these LCD screens are perfectly compatible with anyone's iPhone display replacement choice.